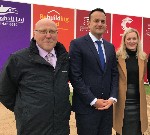 History was made last Saturday the 16th November when the first Affordable Housing Purchase Scheme in Ireland was officially launched at Boherboy, Mayfield, Cork. This is an innovative and progressive development and it is fitting that Cork City is the first location in the Country for the scheme.
This is the first joint development where a Local Authority and two Development companies work together to bring much needed housing to Cork.
BDM Boylan were delighted to have three Solicitors from our Conveyancing Department Sarah O'Keeffe, Gearoid McKernan and Conveyancing Partner Niall Daly attend as the Solicitors for the Developers in this joint venture, Lyonshall Limited and Clancy Construction.
The Taoiseach, Leo Varadkar, turned the sod at the official launch of the Affordable Housing Scheme at Boherboy Road, Lotamore, Mayfield, Cork on Saturday last 16 November 2019.
The development consists of 30 Social Housing Units, for occupation by Council allocated Tenants, and 123 Affordable Housing Units, to be sold on the open market to eligible candidates at a price less than the market value.
The development was made possible by the provision of lands owned by Cork City Council who have partnered with Clancy Construction, Lyonshall Limited and Rebuilding Ireland to deliver affordable homes at the development. The housing development will be a mix of 1, 2 and 3 bedroom apartments and 2, 3 and 4 bedroom houses.
In addition to attendance by An Taoiseach Leo Varadkar, Án Tánaiste Simon Coveney and the Minister for Housing, Planning and Local Government Eoghan Murphy were also present as well as representatives of the Developers including Kieran Coughlan of Lyonshall Limited and John O'Shaughnessy of Clancy Construction.
BDM Boylan Solicitors are delighted to be associated with this progressive and innovative housing initiative taking place in Cork which is the first in the Country on lands provided by the Local Authority under the Service Site Scheme which is an initiative to help fund the cost of public infrastructure to ensure that more affordable housing developments can take place in urban areas to meet the ever increasing demand.